Sell my car
The free, easy way to get 3000+ dealers all over the UK bidding on your car.
Driven by
Take the hassle out of selling your used car
When it's time to change your car, quite often the biggest problem is selling your current one - until now!
We've partnered with Carwow to get you the fairest price, without the hassle.
Add some basic details about your car and start receiving free car valuations within minutes - there are no hidden fees or costs.
3,000+ trusted dealers will compete to buy your car
Our nationwide network of dealers will make their best offers in our auctions.
Easy payment and free collection
Once the auction is up your car will be sold to the winning dealer. They'll collect it at a time that suits and pay you right away!
Already bought a new car?
We've got a great range of products to keep your new vehicle looking and feeling as fresh as it did the day you bought it, whether new or used.
GAP Insurance ensures that in the event of a write-off, you're not left out of pocket.
Get a quote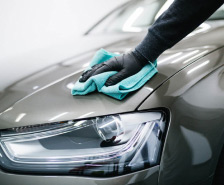 Keep your new or used car looking as good as the day you bought it.
Get a quote
Ensure your alloys are always looking their best by covering yourself against potholes, curbs, and more.
Get a quote